Kindergarten teacher: August dreams, the best laid lesson plans
(Read article summary)
Best laid lesson plans of a kindergarten teacher: A principal's daughter asks him what to teach on the eve of her first class. His advice starts with the simple: Hold hands. Stick together. Look both ways. Flush when you're done. A-B-C-D-E-F-G.... And ends with the reverence for of all the first days of school.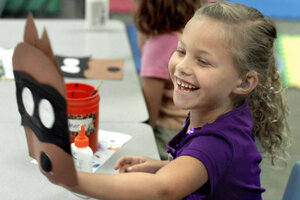 Jeff Morehead/Wabash Plain Dealer/AP
My daughter Hilary is going into the family business: teaching.
In September, she will welcome her first group of kindergartners in her first classroom that is all her own. So she is encountering the August teacher dreams for the first time, preparing her room with decorations (a T-Rex model named Edwina! A science experiment center!), posters, crayons, desks, and, most importantly, curriculum and classroom routines.
She e-mailed one morning from her classroom. Her little dog Betty was her only companion, and Hilary was busying herself in preparation and the quietude of a kindergarten room awaiting kindergartners – or, as John McPhee might put it, "the silence of [kindergartners] intending to appear."
The essential question came to mind. "What am I going to teach these kids?" asked Hilary.
I know many a veteran teacher that asks the same question in August, dreams the same August dreams unique to teachers and copes with the insecurities and uncertainties of the novice teacher – the novices in themselves. I too am a veteran teacher, as is my wife. Hilary comes by the trade almost by osmosis. She has seen us pass through 30 Augusts, watched our preparation and trepidation. Certainly, her resources are within, awaiting detection.
I thought for a minute, and then wrote back: "It's easy. Teach this: Hold hands. Stick together. Look both ways. Flush when you're done. A-B-C-D-E-F-G. Be nice. Ask permission. Listen. Take turns. Say thank you. Be reverent. Use the 25 rules of civility. Done."
Easy? Come to think of it, this isn't just the kindergarten curriculum. It's the Life Curriculum. But if the mindset is established in kindergarten, it becomes the inauguration of crucial habits of mind, heart, and hand that will stand the student in good stead long beyond the playground and sandbox – as they have for Hilary, and for her parents.
---