Janice Min and the post baby bump "momshell" wannabe phenomenon
(Read article summary)
Janice Min – the former Us Weekly editor who stoked the fires of "momshell" wannabe phenomenon – now bemoans her own post baby bump and the stubborn reality that is non-airbrushed motherhood.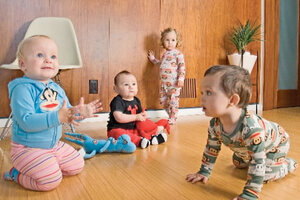 Paul Frank Industries/PR Newswire
Janice Min, it turns out, is surprised at the negative reaction to her column that ran this past weekend in The New York Times, in which the former Us Weekly editor bemoans the pressures on new moms to look thin.
"Can't I get a free pass?" she asked in the piece, noting that even her Los Angeles manicurist seems shocked that a 42-year-old would still be carrying baby weight four months after giving birth. Moms across the country, she wrote, are suffering from an unrealistic celebrity culture that has idolized both the "baby bump" and the "mommy bounce back," in which stars shed pregnancy weight within weeks and look even better than before. You know, even skinnier, but also glowing with maternal sexiness – a "momshell," (that's bombshell with complexity).
"These genetic aberrations smile at us from celebrity magazines, or from our computer screens, wearing bikinis on the beach in Cabo weeks after Caesarean sections, or going straight from recovery room to Victoria's Secret runway," she wrote.
Um, yeah, says the blogosphere. And that, Ms. Min, is your fault.
See, Min presided over Us Weekly during the same time that celebrity moms became a hot topic for Hollywood watchers. As writer Tracie Egan Morrissey points out on Jezebel.com, one could actually argue that Min created the "baby bump" craze – it was under her leadership that the magazine put the phrase into circulation, and it was under her watch that the celeb mommy became popular standard fare. This was what the female audience wanted, Min explained in her column: beautiful moms and beautiful babies.
---