Pumpkin pie in August? Gratitude – and a son's taste – is not seasonal
(Read article summary)
A son's request for pumpkin pie on a 100-degree day in August inspires gratitude ... for the son as different drummer leading the family to new comfort zones.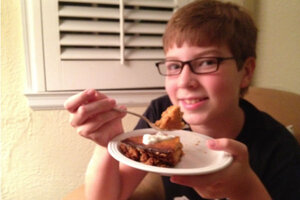 Courtesy of the Heitman family
I guess I should have been surprised when my 11-year-old son asked to end his summer vacation with a slice of pumpkin pie, but I hardly raised an eyebrow when Will requested a treat that, for most folks, is strictly a Thanksgiving Day indulgence. My son has always marched to the beat of his own drummer, so I'm constantly reminding him why his choices might seem odd to everyone else.
"Pumpkin pie is for the holidays," I told Will as we tried to beat the nearly 100-degree heat of a late-summer day in our backyard pool.
But Will remained unconvinced as he paddled aimlessly in the blaring sun, suggesting that there was no real reason not to enjoy a good pumpkin pie any day of the year.
"Pumpkins are out of season," I answered decisively. "We eat pumpkin pie in the fall because that's the time when pumpkins grow."
But Will already knew that thanks to the strange ingenuities of food science, we still had a can of unexpired pumpkin in the pantry from last year's holidays, poised for pie anytime we wanted it.
"We should try to eat pies only at special times of the year," I offered as a fresh line of argument. "If we eat treats like that on any old day, it's not really good for us."
Then Will reminded me that in spite of our family's general goal of dietary restraint, we routinely fire up the oven on weekends for a batch of brownies or chocolate chip cookies. In the scheme of things, how would pumpkin pie break the nutritional bank?
Seeing no good reason to deny Will's request, I found myself in our kitchen the following weekend, blending eggs, milk, and pumpkin while the thermometer outside once again approached triple digits.
---