Ann Romney speech: The tired-mom theme and policy that can help
(Read article summary)
Ann Romney speech: The emphasis on moms suggests growing recognition that they take on more than they should have to do. Now, what can the policymakers do for the tired mom?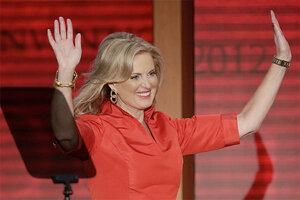 J. Scott Applewhite/AP
Forget "family values." These days – at least if you go by Ann Romney's speech yesterday at the 2012 Republican Convention – the hot political topic is simply Mom. Mom, that is, and how amazingly tired she is.
Now, it's not all that surprising that a presidential candidate's spouse would take her (and yeah, it's still pretty much always "her") convention speech to talk about family, children, how she met the "man that should be our next president!," yadda, yadda. It's not even off the playbook to reference the struggling Americans she met and bonded with on the campaign trail. And given the polls showing Republican presidential hopeful Mitt Romney trailing among women voters, it would be expected to catch a concerted convention effort, led by Ann Romney, to display the party as female-friendly.
(Although that "I love women!" thing was maybe a bit much.)
RELATED: Are you a Helicopter Parent? Take our quiz!
Still, the emphasis in Ms. Romney's speech on mothers – and in particular, on the "juggle" of work and kids and other family duties with which the the vast majority of moms struggle – seems to reflect something new: A widespread, bipartisan recognition that the way we're trying to do family in this country is off. And specifically, it's off because moms take on more than they should have to carry.
---