Skinny Disney: Minnie Mouse, et al get an unhealthy Barneys look
(Read article summary)
More skinny Disney characters: What's a mother of a little girl to do? Healthy body image takes another cut as Barneys thins and stretches Minnie Mouse and company.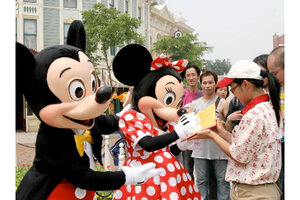 AP
Et tu Minnie?
Sure, we knew that it was getting a bit tough for the Disney Princesses these days, what with all those body image pressures out there. Just the other week, an advertisement for a Venezuelan plastic surgery practice made the rounds on the Internet, showing what the hotter, sexier version of a Princess should look like. There, before our very eyes, was Ariel, the Little Mermaid, swimming up for a tail removal (and enhancement), some hefty breast implants, a tummy tuck and a lip augmentation.
But Minnie Mouse?? We were positive she was safe. Because, really, who would give the skinny treatment to an animated rodent?
Disney! That's who. Along with luxury department store Barneys.
---