Rescue dog: How owning a dog is like raising a child
(Read article summary)
Rescue dog Albie makes his parents recall raising toddlers as he hangs on Mom and Dad's attention and brings back unpleasant tasks.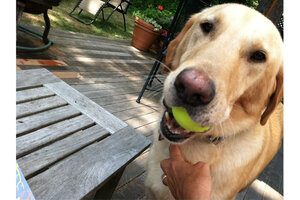 Courtesy of Peter Zheutlin
As our rescue dog Albie becomes more and more a part of our life, the parallels to raising children become increasingly inescapable. Though I thought those years of nurturing and caring for two wholly dependent little creatures were over once the junior high school years ebbed and the driving lessons started, Albie has brought them back.
Like the boys when they were little, he stares out the window whenever we leave with a look on his face that would melt the heart of even the most hardened adult. He doesn't know if or when we're coming back, whether it will be an hour, a week or longer. And like the boys when they were young, he hangs on our attention and our praise. The feelings of devotion we have for him feel as intense as they did for the toddlers who used to wander into our bedroom at night in their cow-jumping-over-the-moon pajamas.
These feelings come in handy when it comes to managing some of the – how to say this delicately – more unpleasant tasks of living with a dog.
Before the boys were born, the thought of changing diapers was a bit repellant, but when it's your child with whom you are madly in love, those feelings dissipate. Changing the diapers of someone else's kid might make you squeamish, but since your own kid can't yet make meaningless crayon doodles that strike you as brilliant art, what they do create is, well, theirs. You may not admire it, but you can tolerate it.
---