Childhood obesity: Having "The Talk" with kids can head off trouble
(Read article summary)
Childhood obesity, studies show, is perhaps harder for parents to have "The Talk" about with their kids than it is to have "The Talk" about sex and drugs. But it does work, if parents walk their talk.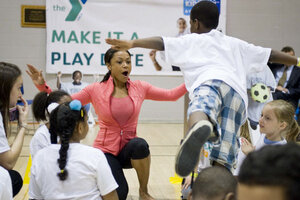 Kevin Wolf/AP Images for YMCA
Virginia Smith dreaded having "The Talk" with her daughter, Ramsey, but she couldn't put it off any longer.
She was concerned about her daughter's weight. Still, she didn't want to hurt Ramsey's self-esteem or say anything that could spark issues of negative body image.
So Ms. Smith decided to frame the conversation around being healthy — and not about weight.
"I talked about being healthy and about making changes we could do as a family," Smith said. "I told her I want her to live a long, happy, healthy life." Since that conversation about two years ago, Smith and her daughter, now 13, have adopted a healthy lifestyle overhaul.
They started with drinking water instead of soda and eating more fruits and vegetables. They now often break out into 15-minute-long dance sessions at home, and they are planning to soon run together in a 5K. Children's Healthcare of Atlanta wants to help more of these talks – and transformations – take place.
Today, the hospital launches a new Strong4Life website providing parents with tools and tips for having "The Talk." The website's offerings include a database of doctors specially trained to counsel families struggling with weight issues, healthy recipes and an online health assessment. It's part of Children's far-reaching efforts to fight obesity. The hospital has a Health4Life Clinic for overweight children. It also runs a special summer camp for overweight children and trains pediatricians on how to discuss the often-sensitive subject of weight.
---