Breastfeeding professor: Students get lesson in nursing debate
(Read article summary)
A professor who nursed her baby in front of her class at American University has become the latest breastfeeding controversy – and all sides are missing a chance to have a deeper, inclusive discussion about the unresolved challenges of childcare access, women's employment, and work-family balance.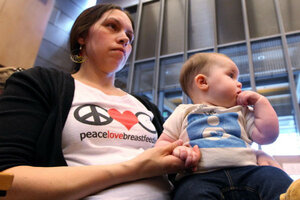 AP
So, an American University assistant professor breastfeeds her baby in class. Before you know it, there's a Washington D.C.-meets-academia scandal at hand, complete with dogged journalists, passive-aggressive official responses, outraged defensiveness, female body parts, and a nice dose of commentary about concepts like "white privilege" and "gendered essentialism."
It all makes me incredibly tired. And squeamish.
Not, mind you, because of the breasts involved. No, it seems to me that we should just get over our cultural issue with those. (And that goes for the people who don't think women should be seen nursing their babies, as well as for the in-your-face, here's-my-breast lactation soldier. I'd venture that we can all just relax.)
But squeamish I feel.
In large part, I'll admit, this is because the student journalists involved in this kerfuffle ("The Eagle," the university's student newspaper, plays a leading role) remind me of my own career as a college gumshoe, and it makes me want to cover up my ears and say "la la la" until the image goes away.
But there is unease for other reasons. When I read assistant professor Adrienne Pine's essay on the website Counterpunch.org, entitled "The Dialectics of Breastfeeding on Campus: Exposéing My Breasts on the Internet," I couldn't help but feel that somehow we're all missing the point.
To back up here, in case you missed the news reports about this: About a month ago, on the first day of her course "Sex, Gender & Culture" (I love that detail), Professor Pine, a single mother, woke up to find her baby daughter with a fever. Stuck without child care – she didn't want to bring a sick baby to day care – Pine had the choice to either cancel class or take her daughter to work with her. She chose the latter.
---