China adoption diary: When departure finds a new translation in return
(Read article summary)
Returning to a regular work schedule, the Belsie family confronts new daughter Madeleine Bao Yi's separation anxiety, as Laurent returns to the office. Departure is freshly interpreted by Bao Yi as her father's daily arrival home becomes one of the most celebratory moments in her day.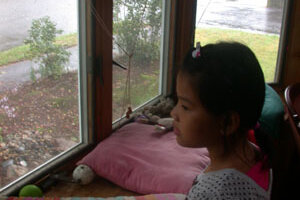 Courtesy of the Belsie family
"Yes, Daddy actually does go to work!"
After two weeks of togetherness in the sumptuous cocoon of The Garden Hotel in Guangzhou, China, followed by a family vacation in Quebec for another 10 days, there were some genuine concerns about how Madeleine Bao Yi would accept the fact that Laurent, her hands-down favorite playmate, would have to return to work. I worried that there would be a noisy scene that first morning of separation, followed by squirt gun tears – both on her part and mine. As that Monday drew near, there was much speculation, and diversionary tactics at the ready.
As Laurent put on his running shoes and prepared for the three-mile jog to the local train station, Bao Yi came into our bedroom with a look of surprise on her face. She immediately set to work straightening the shoelaces and then clutching her daddy's hand.
He told her calmly that he was going to work.
Her response in Chinese: "Bao Yi comes, too."
Related: Drought in India: Disrupted rhymths of nomadic family life
---