Kristen Stewart, Robert Pattinson make up: Why it matters 101
(Read article summary)
Kristen Stewart and Robert Pattinson: Their off-screen romance is on again. Why the make up and break up cycle of two young adults has constructive potential for the millions of average teens who hang on their every date.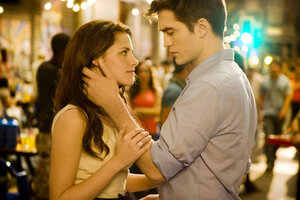 REUTERS/2011 Summit Entertainment, LLC./Andrew Cooper/Handout
All those tweens distraught by that dramatic Kristen Stewart Robert Pattinson breakup this summer: never fear! Word on the street – OK, in the oh-so-accurate celebrity gossip news – is that the "Twilight" pair are back together. Or at least have had a "dramatic makeup" in Los Angeles, according to Us Weekly.
Yes, that sound you just heard was the delighted gasp of "Twilight" fans everywhere. (Along with the outraged protests of those who are still furious at Ms. Stewart – aka Bella – for doing wrong to her vampire beau. I mean, to the actor who plays her vampire beau.)
See, parents, as we explained some months ago, Stewart and Mr. Pattinson are the stars of the film version of Stephanie Meyer's young adult book sensation, "Twilight." Stewart plays Bella, the female protagonist, who has fallen in love with Pattinson's character, Edward, a vampire. (Just go with it.)
RELATED: Top 5 bullying myths - What you don't know about bullying
---