Baby shower? So 2010. Edgier moms-to-be have a baby gender reveal
(Read article summary)
Forget the baby shower. It's a ... "gender reveal!" For moms-to-be who want drama in their shower of baby gadgetry, gender reveal parties let everyone – including Mom – find out the sex of the baby together. "Huh?" asks our pregnant blogger.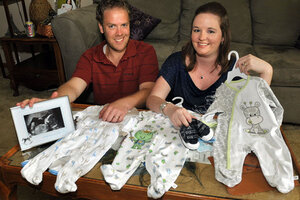 Craig Cunningham/Charleston Daily Mail/AP
And you thought a baby shower was all the pre-birth feting your little one needed.
Silly Mommy. How 2010 of you. Today, baby showers are the least of it.
Or so I learned the other week, lying on that super comfy ultrasound bed for one of the more interesting pre-natal checkups; the one that not only determines whether your baby-to-be has all his/her fingers and toes, but also what sex organs he/she happens to boast.
"Do you want to know what you're having?" the friendly ultrasound technician asked.
"Heck yeah," I answered. My husband and I were expecting this question, and, not exactly the patient types, already knew our answer. (Check out our post from earlier this year about the stats on who "finds out" and who doesn't.)
And then she asked: "Do you want me to tell you now or write it down? You know, for your gender reveal?"
Huh?
(Actually, I thought she said "gender unveil," but that might have been an accent issue. We're not from Massachusetts.)
Yes, the "gender reveal," she explained. It's all the rage these days. You have a party where your family and friends are dragged once again to pay homage to the bump (OK, she just said "come to celebrate") and at the best dramatic moment, you open the envelop (or look in the cake, or lift a curtain, or whatever) and discover whether to paint the nursery pink or blue.
Seriously.
Husband and I exchanged looks.
"Really?" I asked.
It was all I could muster.
"I know, I know," she said.
---