Obama, human trafficking and teachable moments on a difficult topic
(Read article summary)
President Obama's landmark speech on human trafficking – a major, but misunderstood human rights issue – is a teachable moment for parents to talk about sexual exploitation to kids who need to understand the issue.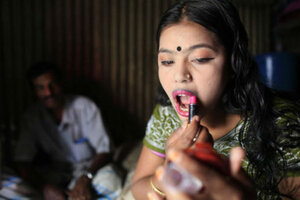 Reuters
Here, parents, is a teachable moment for your kids:
Earlier this week, President Obama gave what advocates are calling a "landmark" speech about human trafficking, a growing human rights concern in the United States.
The president focused pretty equally on labor and sex trafficking, and announced a number of new US efforts to combat what he called "the injustice, the outrage, of human trafficking, which must be called by its true name – modern slavery."
Somewhat predictably, though, the most vocal response here to the speech has come from those involved in the anti-sex-trafficking movement. "Sex trafficking" is a subset of human trafficking, one that has gotten a lot of domestic attention recently, from politicians to nonprofit organizations, celebrities to church groups. The stories that these groups tell of victims are horrific – of young girls, many of whom are American, being kidnapped or tricked, and the subjected to all varieties of violence and cruelties while pimps sell them for sex.
---