Parenting on 3-year-old time: Smell the roses, watch the ants
(Read article summary)
On 3-year-old time, harried deadlines and time-sensitive mail fall to the delight of an ant, a rock, a flower.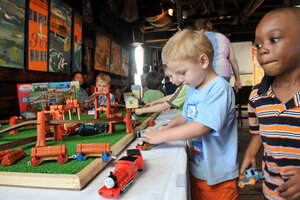 AP Images for Fisher-Price/Diane Bondareff
The day starts with my son asking for the empty toilet paper roll as I take it off of the holder. I hand it to him, and he climbs up on the closed lid of the toilet and peers through one end of the cardboard tube.
"Arrgh," he says. "Mommy, I a pirate!" He bends at the knees, leaning forward in his T-shirt and Spiderman underwear while surveying the imaginary seas around us.
Three-year-olds have great imaginations, but they have no sense of time – at least not our time. Later that morning, my pirate makes us late for an appointment by taking forever to put on his own jacket, and refusing my help. I have learned from experience that trying to help a preschooler when they want to do something on their own will most certainly lead to a teary tantrum – and more delay. So I take deep breaths while tapping my foot.
That afternoon, a 10-minute walk to the park turns into 30 as he stops to examine the cracks in the sidewalk, an interesting rock and a flower. I just want to get there, but my son sees some ants and squats to get a closer look. Knowing that he won't budge, I bend and watch the tiny creatures with him.
---