Sukkot holiday: A mom finds comfort, and inspiration, from sukkot ghosts
(Read article summary)
Sukkot is a Jewish holiday spanning seven days, a holiday for ghosts that ends with Yizkor service that memorializes the dead. For this mom, the ghosts of Sukkot bring comfort – and some parenting inspiration.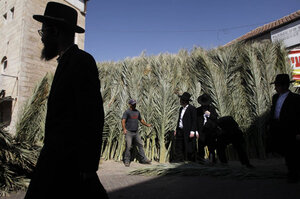 Reuters/Baz Ratner
Sukkot is here and my guests are on the way. Like Chagall's lovers they fly over the silver moon; their white gauzy clothing double as wings. I greet them in the sukkah – a makeshift structure akin to a hut that we build from a kit. The sukkah also has a roof with slats generously spaced to see the sun and the moon and the stars.
The company I'm talking about stargazing with is called ushpizin – the Hebrew term for mystical guests who will grace sukkot (plural of sukkah) all over the world on each of the seven nights of the holiday. This is my kind of celebration. When I was a kid I loved reenactments of historical events. The old sitcom Bewitched tickled me because someone like Columbus or Shakespeare came alive for me.
RELATED: Are you a 'Helicopter Parent?' take our QUIZ!
To that end, I have a wish list of historical figures I've always wanted to meet. Moses and Leah top my list. No one is more associated with the Torah than Moses. In my mind, he's an inspiration because so much of his leadership was marked by doubt. As a parent in the 21st century, I take solace in the fact that even with God's direct intervention, Moses still had a difficult time leading the Israelites out of the wilderness and into the Promised Land. Leah is my role model as a mother. Every parent has been a Leah at some point – taken for granted, ignored, but still triumphant in ordinary yet miraculous ways.
---