The presidential debate makes the election more interesting for one household
(Read article summary)
Obama and Romney interrupting each other and a threat to PBS kept three young viewers glued to the screen.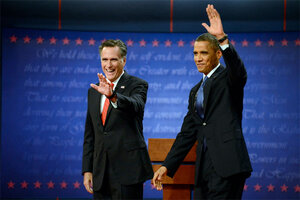 John Leyba/The Denver Post/AP
When my middle and high schoolers were assigned the homework of watching the presidential debate, I never expected my eight-year-old to get glued to both the set and the concept of getting out the vote after a candidate announced his intention to pluck Big Bird and the rest of the PBS lineup from his life.
It seemed like such a simple parenting moment as I switched on the debate and hunkered down with our sons, ages 13 and 17, to help them navigate the salient political points of the debate. I was a political science major and did my internship at the United Nations Association in New York, so I am the go-to parent for political homework.
The boys were prepared to be bored silly until candidates began interrupting each other and the moderator, Jim Lehrer, swiftly lost control of the carnage. Suddenly my living room was alive with the sound of rooting, catcalls and chagrin as the boys answered the candidates themselves.
This kept our son Quin, 8, who has Asperger's, from getting to bed, and he asked if he could come and watch.
Figuring this would be the world's best cure for the insomnia of a third grader, I agreed and he bundled onto the couch beside me just in time to hear the president say he was going to add 100,000 more math and science teachers. Then Obama added, "If you're lowering the rates as you describe, governor, it is not possible to come up with enough deductions and loopholes that only affect high-income individuals or burdening the middle class. It's math, it's arithmetic."
---