China adoption diary: Mom struggles to keep daughter afloat in school
(Read article summary)
Madeleine wades through the challenges of learning math and sentence structure in a new language. Mom anxiously navigates the sea of knowledge with her daughter.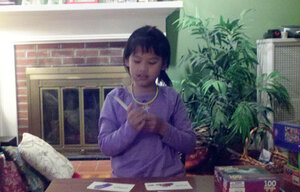 Courtesy of the Belsie family
Now that school is in full swing, I've begun to get a feel for where my daughters are on the elementary school learning spectrum. Each new homework assignment helps me pinpoint, with growing accuracy, just where they are paddling in the great churning sea of knowledge. Fifth grader Grace is currently grappling with rudimentary experiments with rocks and minerals, perfecting her cursive writing, and memorizing the location and spelling of the major cities of the Eastern United States.
Let's just say we were both caught off guard by Biloxi, Miss.
For Madeleine – with only three months in America and scant skills in English – the experience of acclimating seems overwhelming to onlookers and concerned family members alike. Yet I am proud to say that she has never complained about going to school or resisted the routine of boarding the big yellow bus and spending the day in her Sheltered English Immersion classroom just a mile up the road. She's not the happiest on rainy days that cut into her recess time on the monkey bars, but other than that, she appears willing to give this American school thing a try.
---