College-bound, one daughter's departure means changes at home
(Read article summary)
With a college-bound child, one mom examines her half-empty nest.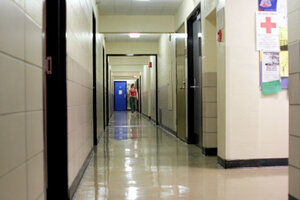 Sarah Philbrick
Here's a joke that I recently heard. An optimist sees the glass half-full. A pessimist sees the glass half-empty. An opportunist drinks the water. Not all that coincidentally, these describe the various emotional states of my half-occupied nest. Sometimes it's half-full; sometimes it's half-empty. Although there is more time and space in my house since Anna left for college, I'm still shocked that she packed up and moved away a five-hour drive from me. Bearing in mind that our daughter wakes up every day almost 300 miles away, here's a very short list of what's changed at my house.
The bedroom. Be careful what you wish for because it may come true. Before she left for school, we blasted Anna's room, clearing over eight years of detritus. We were sorting stuff that dated all the way back to fourth grade. There was that book project Anna couldn't part with or that oh-so-pretty party dress that she wore on the bar mitzvah circuit six years ago! Six years ago?! Mind-boggling. In fact, Parents' Weekend at Anna's school falls on the fifth anniversary of her Bat Mitzvah. The quiet, clean bedroom matches the quiet, sort of clean house. I don't mean to say that Anna is loud. But there is a liveliness, a spirit of wonder and a megawatt smile that she brings into a room. And with her departure for college, I'm now the only girl in the house. Even the dog is a boy and, like the men in this house, he could care less about the fabulous sweaters and pocketbooks that I find on sale.
---