Parenting in Mexico: Families' fear tested in 'virtual kidnappings'
(Read article summary)
Parenting in Mexico in an environment where kidnapping and extortion are everyday experiences can be a nightmare. Up to 50,000 people have been killed in the last six years in the nation's fight against drug trafficking. Raising children in an environment of fear, parents are now being forced to reckon with the latest scheme, known as "virtual kidnapping."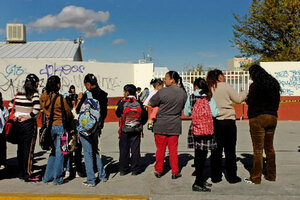 AP Photo/Ricardo Lopez
The phone rings at 11 p.m., jolting a father from his slumber. It is among the most dreaded moments of any parent's life.
But in Mexico, parents face more fearsome prospects.
"Hello?" my friend's father said into the receiver on a recent evening, as it dawned on him in a panic that his moment had arrived.
"Papi, they have me," were the words he heard back. His sweet daughter.
Without thinking twice, he started to give what was demanded of him, including cell phone numbers of the family members. It was not until moments later that his wife gained calm and dialed her daughter's cell phone.
"What's up?" my friend asked of her mother, the din of a party just getting underway in the background.
Virtual kidnapping. It's one of the newer threats finding its way into the lives of ordinary Mexicans.
The voice, "Papi, they have me," was not my friend's voice, but a recording. Criminals use these generic messages, chancing that at least some panicked Mexicans will deposit money or at least give out additional information, like private cell phone numbers, so that a more targeted scheme can be developed for the future. No one knows for sure who they are, if they are tied to drug traffickers, networks run out of the nation's jails, or just common criminals taking advantage of an environment of fear, as 50,000 have been killed in the nation's fight against drug trafficking in the past six years.
In many ways it's distinctly Mexican in the 21st century. In another time or place, without kidnapping and extortion so widespread, a father might pause. "Excuse me?" he might say, and when "Papi, they have me" is repeated, he might realize, "Who is this? This isn't my daughter's voice."
---