Maine earthquake rattles mom into preparedness (sort of).
(Read article summary)
The 4.0 Maine earthquake that rattled homes throughout New England, convinced our mom blogger that a little preparedness – extra diapers, for example, and a working flashlight – might be in order for quakes as well as snow storms.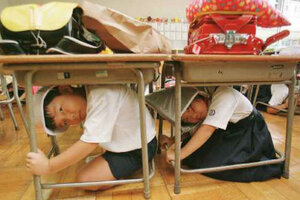 AP/File
Here in my new home state of Massachusetts we don't usually have to worry about earthquakes. Drivers, yes. Snow, definitely. But ground tremors that shake the house and send pictures rattling off the wall? Not so much.
So last night, as I sat in my home office and wondered whether a helicopter was actually about to land on our house, and then whether it was possible that a rare earthquake was hitting New England (yup), I had a revelation:
I had carefully put those little plastic thingies into all of our electrical outlets, I had cleared the living room of sharp corners and tippable furniture, I had even installed a dubious plastic strip that is supposed to keep our oven closed to little prying toddler fingers. But I was totally, completely, unprepared for taking care of our family in a natural disaster. I actually had to do visualization exercises to figure out whether something heavy could fall on my daughter in her crib.
(Nope. Point 1 for Mommy! I thought. Until I read on some earthquake preparedness websites that cribs should not be placed near a window where children can be hurt by broken glass. Sigh.)
---