Bully study hype? Do 80% in high school really see bullying weekly?
(Read article summary)
The anti-bullying movement got an injection of new, shocking statistics to work with in a dosomething.org online survey that suggests 80 percent of high school students see bullying incidents each week. But considering the uncertainties of what bullying really is, this may not be a fair snapshot of the life of American teens.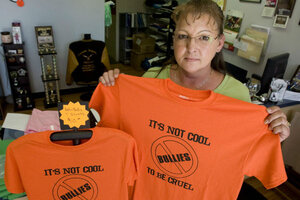 Detroit Free Press/AP
There's a new study out today about bullying in American high schools, and at first glance, the numbers from this one are shocking:
Scouring data from more than 50,000 teens across the country, researchers with DoSomething.org, a social action organization for young people, found that more than 80 percent of American high school students see bullying every week. Only a tiny percentage – three percent – said that bullying at their school was "not an issue at all," and fully half of teens said they rarely or never see their peers intervene. (This despite almost everyone saying that the best way to combat bullying is to have other students, rather than teachers or parents, intervene.)
Also, contrary research by the Pew Internet and American Life Project and other cyberbullying studies, the DoSomething.org survey found that the most commonly reported location of frequent bullying was online: more than two out of three students reported frequent online bullying. (In contrast, 67 percent of teens in Pew research reported that bullying and harassment happens more offline.)
---