Autumn Pasquale and Jessica Ridgeway cases: The moms who turned in their sons
(Read article summary)
Autumn Pasquale and Jessica Ridgeway were both allegedly abducted by underage boys in separate attacks. The alleged killers of Autumn and Jessica were turned in by their own moms – an act of courageous parenting that deserves acknowledgment.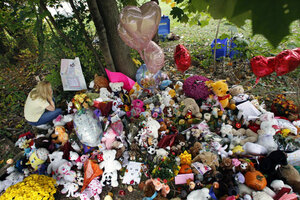 Mel Evans/AP
We would walk through fire, lift buses and fight to the death to protect our children from harm, but how far would we go to protect other children from our own child?
RELATED: Are you a 'Helicopter Parent?' take our QUIZ!
This week, we read about the murders of two young girls, Jessica Ridgeway, 10, in Colorado and Autumn Pasquale, 12, in New Jersey and realize the pain their mothers must feel at having lost their daughters. Then we see the mothers of the killers who turned in their own sons for these heinous crimes: We must try to hold on to our own humanity long enough to feel for their different kind of parental loss.
Mindy Sigg's 17-year-old son confessed to the abduction and killing of Jessica in Colorado. According to published reports, her son Austin Reed Sigg is charged in the death of Jessica and in a separate attack on a 22-year-old runner, who managed to break free, in May.
---