Hurricane Sandy: Stay safe at home with the kids using these tips
(Read article summary)
Hurricane Sandy is heading up the East Coast and could arrive in New York and New Jersey next week. Stay safe with these Red Cross tips on preparing for a hurricane.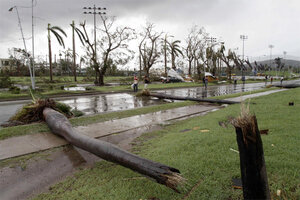 Franklin Reyes/AP
As Halloween approaches next week, all eyes have turned to another "H" – the incoming hurricane christened Sandy that experts are warning could affect the entire East Coast and, if it meets up with a cold front, combine to create a powerful storm.
As I was growing up on Cape Cod, hurricane warnings would often go out in the fall, but we were lucky enough never to get really slammed by one in my lifetime. I was only a toddler for Hurricane Bob, the last big one, so have no memory of it. According to my parents, my dad was at work, doing his usual night shift at the local newspaper and my mom took me down to the basement just in case, where I apparently thought it was just normal basement playing fun time and spent the time absorbed in my mini basketball hoop.
Hurricane Irene did mess with our plans slightly last year when it struck New York City during the week we were moving my younger sister into college at Fordham University. It was still calm skies when we were unloading possessions into the dorm building, but the dire weather reports and the state of emergency declared for the city didn't exactly create the calm atmosphere one would hope for in dropping a child off at college for the first time. RAs assured us that the school had taken every precaution to keep the new freshmen (the only ones at the school for the week) safe, but my parents and I still stayed glued to weather reports the night after we dropped off my sister. Luckily, the area where her college is located wasn't badly affected.
---