Hurricane Sandy: How to process the threat with your kids
(Read article summary)
Hurricane Sandy has parents hitting the bottled water aisle at the supermarket and monitoring the growing threat on TV – and their children are listening in the background. Children can feel frightened but safe if parents process the drama of Hurriane Sandy realistically for them.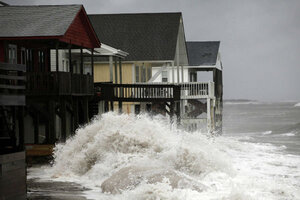 Reuters
I was five-years-old when Hurricane Gloria hit Boston in 1985. I remember playing card games by candlelight, while my teenaged brother sulked that he was missing Miami Vice.
Gloria was classified as a Category 1 hurricane. At the time, it was the first major hurricane system to reach the Northeast and move inland in more than 20 years.
RELATED: Are you a helicopter parent? Take our quiz
Over the next few days, Hurricane Sandy, another Category 1 storm, is expected to wind its way up the east coast, probably dealing out the most damage to the Mid-Atlantic and Northeast.
As parents hit the bottled water aisle at the grocery store and monitor the storm's path, their children are listening in the background.
How can parents help their kids to process these kinds of events realistically without frightening them unnecessarily?
During Hurricane Gloria, I vaguely recall jumping as claps of thunder rattled the house and recently liberated tree branches whipped past the living room windows.
However, most of all, I remember a sense of delicious exhilaration as I sat with my family in the midst of deafening darkness, frightened yet safe.
Since then, I have experienced some crazy weather events. In fifth grade, Hurricane Bob uprooted a massive willow tree in my back yard. Lightning struck the hood of our family car while we were driving down the highway during a vacation in Florida, and in high school, an ice storm transformed the trees to glass.
---