Halloween costumes: More sexualized stereotyping for girls
(Read article summary)
Halloween costumes for kids, particularly girls, are increasingly sexualized, reinforcing the same unhealthy cultural messages about girls' bodies.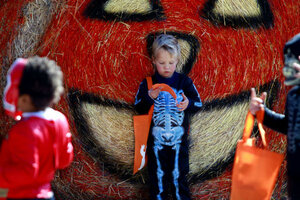 AP
For years, families struck a balance between store-bought and homemade Halloween costumes. But these days, do-it-yourself Halloween costumes are out; store-bought costumes are a $2.87 billion business.
What does this mean for consumers? Well, for one thing, we're seeing a lot of costumes that reproduce tired gender stereotypes. Sex sells, and in an $8 billion seasonal industry, it seems designers and retailers are maximizing profits by creating more and more "sexy" costumes for women and girls.
In today's relatively new, hyper-commercial Halloween, it's become an expectation for females to dress in sexually provocative ways – even when costumed as, say, a children's cartoon character, like Nemo from "Finding Nemo," or a mundanely macabre item like a body bag. Are you a man? Your body bag Halloween costume will resemble an actual body bag. Are you a woman? The ladies' version of a body bag costume will be (drum roll…) a skimpy dress with a hood that zips over your head. Seriously.
---