Tamera Mowry: Her baby boy is due, and she talks like a normal mom
(Read article summary)
Tamera Mowry is expecting her first baby – a boy – any day now. It's great to hear a celebrity mom talk like a normal mom on the street: She says she's very ready to have the pregnancy over, done, finished, and baby home.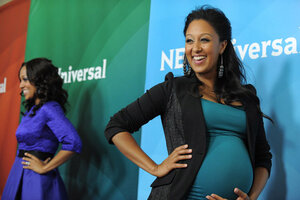 Jordan Strauss/AP
Actress Tamera Mowry is waiting to give birth – any day now.
This is usually time for the celeb mommies-to-be to wax poetic about just how much they have loved being pregnant, how those nine months of creating new life was about the most magical experience they could imagine. Maybe they've already started working on their new maternity clothing line.
So, when I read that actually, Ms. Mowry feels like she has been pregnant forever, I took notice.
Really? Because that sounds down right ... normal.
I quickly looked up the blog the "Sister, Sister" actress writes for "People." Sure enough, Mowry acknowledges that in these last days leading up to her due date (tomorrow), she has had enough. She has been Googling old wives tales about how to induce labor naturally.
Not that she's going to try all of those methods, or even expects them to work.
But it's better than focusing on the sleepless nights, trips to the bathroom, problems with spicy food, and all of those first-time parent-to-be concerns, such as "Am I going to totally mess up this mom thing?"
---