Media literacy for preschoolers requires active parent viewing
(Read article summary)
Media literacy can be developed in preschoolers if parents actively watch media content with them and relate it to real-life experiences – and your family's values.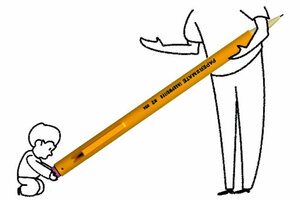 Scott Wallace/The Christian Science Monitor
In today's media-saturated world, raising media literate children is an increasingly important goal. Our kids need No. 1, to understand how the media work; No.2, to be able to think critically about media content; and No. 3, learn how to create their own media texts – empowering them not just to consume, but also create.
In my previous blog explored my family's approach to teaching our four-year-old son how the media work – particularly, how commercials work. From an early age, he learned my mantra: "Commercials try to sell us things we don't need." This simple concept helps him understand that commercials aren't neutral or factual. They have an agenda: persuasion. And kids have such an innate sense of justice that the idea of being "tricked" really rankles them!
Although my son will often complain about commercials trying to sell him things he doesn't need, some days, he has a little fun at my expense. He'll look at me with a wicked gleam in his eye, a smile playing on his lips, and say, "Mommy. I LIKE commercials." The little tease!
This always makes me smile, at least inwardly: If he has figured out that he can tease me about liking commercials, he has also figured out what my values are. And knowing what we value as a family is an important part of thinking critically about media content.
A couple of strategies have worked well in helping my four year old develop the ability to think critically about what he sees on screen, which is a fundamental part of being media literate. First, I make sure that we watch things together, and that while we're viewing, we talk about what's on screen in ways that draw upon our family's values.
---