Reese Witherspoon baby, Obama Moms and more: Our parenting news roundup.
(Read article summary)
Reese Witherspoon's baby 'debut' is just one of this week's spotlighted stories. We also have Obama moms, the New Gerber Baby and a pregnant voter who went above and beyond. (And remembered to breathe.)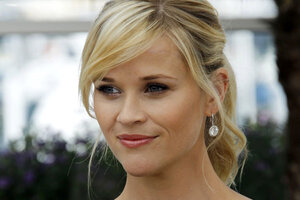 Joel Ryan/AP
It's Friday, so time for our parenting news roundup.
Yes, we'll get to the new Reese Witherspoon baby. But the big news this week, of course, was the election. Picking The Leader Of The Free World and all that. But who knew how many family stories could be wrapped up in presidential politics? Check out our sampling here.

And the Walmarts have it...
We wrote about how President Barack Obama beat out GOP challenger Mitt Romney in securing the mom vote. (Fifty-six percent of mothers voted for Mr. Obama, according to exit polls, compared to 43 percent who went for Mr. Romney.) But we've since learned more about the voting patterns of a key faction of American mothers – the "Walmart Moms."
---