'God is the clouds,' a son advises his pondering mom
(Read article summary)
How do we talk about faith with our children? Before her son ever asked the 'Mom, do you believe in God?' question, a mom asked him, 'So what is God?' His answer helped her ponder her own faith more.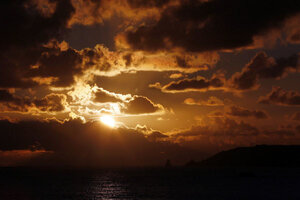 Reuters
Over dinner a few weeks ago, my husband and I quizzed our almost-5-year-old about what he had learned that day in a new pre-kindergarten Judaism program at our temple.
Top 5 parenting tips for media literacy in preschoolers
The teacher had acted out the story of Noah and the ark. Simon told us about how God created the flood, and then God made the wind and the sun that dried up the rain.
"So what is God?" I asked.
"God is the clouds," he said.
My husband and I smiled, then Simon dropped the subject and started chattering about animals in general. He was done with the story about the creatures that go two by two on the ark.
Simon did not ask us to explain our own views of God. Phew. I was not yet ready to have the "God" conversation with my son.
I went to religious school from age 5 to 12, then got permission from my parents to drop out. I was bored and unmoved by religious school and Bible stories. My parents never really spoke to me about God. My father, for as long as I can remember, has described himself as an agnostic. My mother has a stronger connection to Judaism, but did she believe in God? I have never asked.
---