Thanksgiving: Teaching gratitude is always in season
(Read article summary)
Thanksgiving gratitude isn't only seasonal. Teaching gratitude and awareness of what is good in children's lives can rub off – there's so much to appreciate, from a cloud to a warm home to a good meal. Without that perspective, only the things kids don't have will seem important.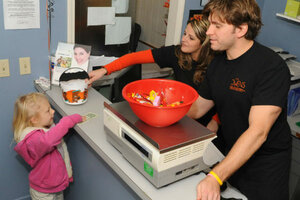 AP
It's a little ironic that the season in which we give thanks and the one in which our children are making their holiday wish lists come so close together.
We try to give our children so much but sometimes forget to give them the greatest gift, the capacity to appreciate and to feel grateful. Without that, we can never give them enough. We may want to give them many things, but how do we do this and not give them a sense of entitlement?
This, like most aspects of parenting, is a fine balance.
Many of our own parents tried to make us feel grateful by pointing out the starving children in some far-off land. This strategy often resulted in us offering to send those children the horrible casserole or ugly tennis shoes. In spite of those responses, many of us grew up with far less than our children have but with a greater sense of enjoyment and appreciation.
Just a glance at the sea of media in which our children swim gives us a big hint as to how this happened. All around are material things that they (and we) are led to believe we must have – that we have a right to have. But there are little ways to swim against this tide.
The most important is simply being an example of appreciation for the things in our own lives. It can rub off. The source of gratitude can be anything – the sight of glowing cumulus clouds, our warm home, or a nice meal. They may respond with eye rolling and an, "Oh, Mom/Oh, Dad" (as if we're so sappy). But someday when we say, "Come here a minute, look at that sunset," a big cool teenager might look and say, "Oh, yeah, and I like the way the sun streams from under the edges of the clouds." When that happened to me, I was grateful that I had put up with all the eye rolling.
In my work as a school psychologist, a mother with a rather crabby 9-year-old came to see me for help. We worked out a way to instill a bit more gratitude – but not with reminders of how fortunate he was as a response to his complaints. Instead, we focused on bedtime.
---