Rescue dog: Two head of dog on a five-day sleepover – rodeo!
(Read article summary)
Rescue dog Albie hosts a canine friend for an extended sleepover – next time he'll put his favorite toys away before the guest arrives.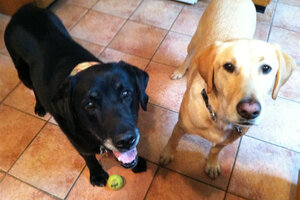 Courtesy of the Zheutlin family
Readers who have been following the story of Albie, our half yellow-Lab, half golden retriever, know that a tipping point in our decision to adopt him came last May when we took care of Reilly for a few days, a black Lab who belongs to our friends Anne Marie and Dave. Reilly was remarkably mellow and easy to have around, and for the first time in many years, I imagined myself with a dog.
RELATED: Are you a 'Helicopter Parent?' take our QUIZ!
Last week, Reilly came for a return engagement when Anne Marie and Dave went to visit their daughter in Spain. Imagine a five-day sleepover with two 10-year-olds and you have some idea of life with Reilly and Albie.
Like jealous siblings, a pat on the head for one inevitably brought the other nosing in for equal treatment.
---