Fred Savage baby, holiday shopping and more: Our parenting news roundup
(Read article summary)
Fred Savage baby announcement, pols Joe Biden and Cory Booker try living like the people by shopping at Costco and going on foodstamps, US birthrates plunge, and ... in the best news for parents child sex abuse crimes drop.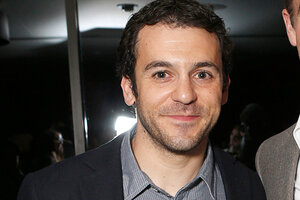 Todd Williamson/Invision for Details Magazine/AP
Fred Savage, of "Wonder Years" fame, made a cryptic birth announcement via Twitter. Vice President Joe Biden and Newark, N.J. Mayor Cory Booker decided this week to go shopping with the people. And new reports show both birth rates and child sexual assaults are down.
Yes, it's time for our Friday parenting news wrap up – a helpful guide for those of you who might have missed the news, or just spent this week in a post-Turkey (or family gathering) haze.
The price is right...
If you were a Washington, D.C. parent and had decided Thursday morning to head to Costco to grab a jumbo pack of, I don't know, Honey Nut Cheerios, you may have well run into fellow shopper Joe Biden. As in, Veep.
---