Parenting roundup: Kate Middleton's pregnancy, puppies for rent, and more
(Read article summary)
Kate Middleton's pregnant, and was it bullying when two Nevada teens beat up a special needs student?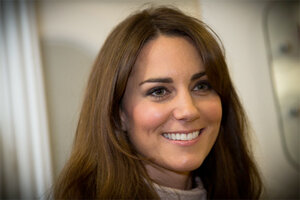 Paul Rogers/Times Newspapers/AP
We don't blame you if you found that Kate Middleton's pregnancy eclipsed all the other parenting news this week. It distracted us, too. (I mean, really. Hospitalization, Australian crank calls, bookies taking bets out on possible royal baby names... it went on and on.) But this is why we have our Friday parenting news roundup – to share some tidbits that you might have missed during the week.
But first, because we just can't help it, a review of the news from London.
Heir in making
The British royals announced on Monday that Ms. Middleton and husband Prince William were expecting a child and that the Duchess had been admitted to King Edward VII Hospital with acute morning sickness. As poor Kate attempted to recuperate (even the most celeb-cynical moms must have a bit of sympathy on this one), the royal-watching world went nuts. The paparazzi camped outside the hospital. World leaders tweeted their congratulations. Bookies took out bets on what names the couple might pick for the future monarch. (At the moment, odds are pretty decent on Frances and John.)
---