Holiday tipping: Don't forget those who help your family function
(Read article summary)
Holiday tipping tips: A tchotchke made by your kids is not a tip. Cold cash, in a nice warm note, is something many in the service industry depend on – from your day care worker to your dog groomer.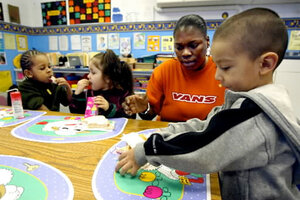 Melanie Stetson Freeman
We know you made out your holiday shopping list in October, including everyone from your sister-in-law to the Secret Santa gift for work.
But we're pretty sure you're forgetting someone. Remember the newspaper delivery person? And your child's day care teacher? And your dog groomer? You didn't grab a sweater for them at Target, did you?
Holiday tipping season is upon us, a potentially complicated social negotiation that can take the cheer right out of the season. It's usually a time to show appreciation for people who give you services all year long – but exactly whom to give to and how much to give can add extra weight to the simple idea of being thoughful. How little can you give without offending? How much to can you give seeming overly generous? Who is it imperative to remember? And if your holiday resources are shrinking, who can you – gulp – take off the tipping list?
Jacqueline Whitmore, founder of etiquetteexpert.com and author of "Poised for Success," says to focus on those who make your life run more smoothly from day to day such as day care instructors, hair stylists, those who work to take care of your pet and exercise class teachers.
"These are the people that make your life easier," Ms. Whitmore says.
---