Square Enix ads pushing Facebook "hits" is nixed as cyberbullying
(Read article summary)
Game developer Square Enix took down its 'Hitman: Absolution' ad campaign after public outcry over its promotion of cyberbullying; "Square Enix wants you to put a hit on your friends" was the company's email slogan, encouraging gamers to threaten their friends on Facebook.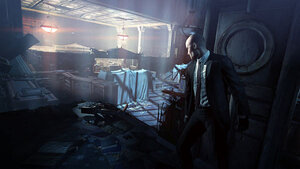 Square Enix/AP
This was good to see: What looked like a truly anti-social media company, game developer Square Enix saw irresponsibility for what it was and quickly reversed a stupid marketing decision. I'd like to take it as a sign that – in this very social media environment where users are co-producers with the providers of their media experiences – media companies and users alike will be increasingly wise to the power that users have just by the nature of social media.
My definition of an anti-social media company is one that fails to treat its users as partners in the social experiences they're co-creating with it.
But I wonder how sustainable such a company's practices are, because of the transparency and user-driven nature of social media, and what those say about where control ultimately lies (something users haven't completely wakened up to yet) – more on that here.
Anyway, the decision Square Enix decided to reverse was to advertise its game "Hitman: Absolution" with a campaign that started with an e-mail which "literally [said] 'Square Enix Wants You to Put a Hit on Your Friends!'," reported Geekdad at Wired. The e-mail instructed players to go to Facebook and use an app that would help them insult and send death threats ostensibly to other players. Only one of the problems with that is that non-players and people who'd never heard of this videogame could've gotten those cruel messages.
---