Christmas without butter?! Norway's perpetually uncertain butter supply
(Read article summary)
Is it Christmas without butter? Norway may offer lavish social benefits from universal healthcare to generous parental leave, but it doesn't have enough cows to produce enough butter.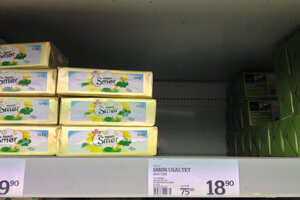 Courtesy of Saleha Mohsin
I've spent my first year in Norway trying to figure out what's wrong with this country. The work-to-life balance is ideal, the health care is great, and parental benefits are extravagant. It sounds utopian. But a recent trip to the grocery store revealed the darker side of Norway: there aren't enough cows.
Let me start from the beginning. I was supposed to bake a lovely cardamom bread for a recent potluck last weekend but I couldn't find any unsalted butter. I went to three grocery stores and checked again throughout the week with no luck. There was regular butter and margarine in varying degrees of healthiness but nothing that I could bake with.
And now I'm getting nervous because last year there was a major butter shortage in Norway and I wonder if it's going to happen again.
A butter crisis? It is such a strange concept. There's rarely a shortage of any kind in the US. You walk into a store and you'll find everything in abundance: aisles of ketchup, 20-packs of baby bibs stacked ceiling high, a 40-pack of toilet rolls. There's no such thing as running out of the basics and there's no such thing as buying just one.
I didn't tell anyone back home about the butter famine because I was embarrassed that I had just moved to a place that, however modern or wealthy it was, couldn't provide me with something so basic. Swapping homemade butter techniques was a normal conversation here last year. I couldn't hide it for long because Stephen Colbert got wind of the story.
---