The holidays mean reflection via Dylan Thomas for one middle school class
(Read article summary)
Christmas tree decorating, watching 'The Grinch,' and playing in the snow are staples of their winter holidays, say seventh- and eighth-graders in Maine.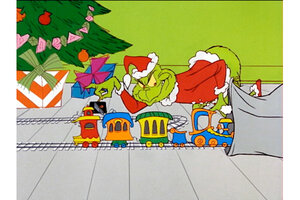 Courtesy of Warner Home Video
The assignment for my seventh and eighth graders was to select one of Dylan Thomas's topic sentences, each borrowed from a paragraph of his famous "A Child's Christmas in Wales," and use it to begin their own recollection of their local or familial holidays. We had read Thomas's wonderful story, watched an excellent film version of it, and looked outside as the snow hushed Castine on Wednesday morning – inspiring writing weather, to be sure, for kids in a harbor town in the northern latitudes.
You could begin, "One Christmas was so much like another, in those years...." Or perhaps you preferred, "All the Christmases roll down toward the two-tongued sea...." I am fond of this one: "There are always Uncles at Christmas." With such prompts, it was important to review two crucial writing rules: "Never let the facts get in the way of a good story." And "It's all true, even if it never happened." It was time to stretch out and inhabit the feeling of the season in words, to don the mantle of Thomas and Wales and merge wolves in Wales with Castine with cherished candy, mittens, firemen and tipsy aunts.
"Bring out the tall tales now that we told by the fire," wrote Thomas. And so we plunged our hands in and brought out the memory of the year Olivia and Jacey made the snow dog, instead of snowman, and named him Veggie Bob Dog, due to his broccoli eyes, cauliflower nose, and carrot mouth. On the same day they invented jelly snowballs. "You have to pack the snow together, and dig a little hole in it," said Jacey – which tasted pretty disgusting, according to Olivia.
---