Holiday parenting: How the holiday liturgy of light creates a global family
(Read article summary)
A school principal knows how the holiday liturgy of light can create a global family among diversely religious and irreligious communities.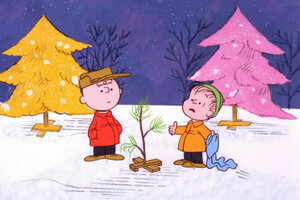 United Feature Syndicate/Charles M. Schultz/AP
As a school principal, I've wrestled for years to find a satisfying expression of seasonal joy and inspiration while working in a diverse religious or irreligious community. What tradition can we all embrace at this time of year without making the moment fraught with conflict or overlap or over-sensitivity regarding individual religious tradition?
The school concert last week was "the winter concert," not even the holiday concert. Christmas, Hanukkah, New Years all blend as "winter vacation." We balance the songs and music originating in different traditions in order to be inclusive — all good. The words of well wishing often catch in the utterance. "Merry Christmas," said a fourth grader to her Jewish teacher. Ooops! "It's OK to wish me Merry Christmas," said her teacher! Language and religious traditions collide; graciousness and understanding trump the inadvertent over-sensitivities. We deal.
But I still seek the language we can all embrace, the words that staunch the hindrance we feel to reach beyond the murky clouds of unshared doctrine, liturgy, or tradition that inhibit our celebration. Where is an ecumenical, civil, secular liturgy and ritual we can all join? How do we unite in something soulful, beyond the commercialism that also permeates the season?
This is a precious moment in the calendar of the world's religious traditions, as people and their villages have known and celebrated since the very beginning of settlement and stories. The oldest observance must be the death and birth of the year, the Winter solstice, the celebration of new life. Eventually the imagery came to convey the break through of inspiration and spirituality — as exemplified by light.
---