Mall of Louisiana flash mob riot: not all flash mobs are alike
(Read article summary)
A teen flash mob brawl at the Mall of Louisiana and flash robs are the darker side of the social media phenomenon that has frequently been used for good: Like Caine's Arcade support or building awareness about a public issue or just for good, clean fun.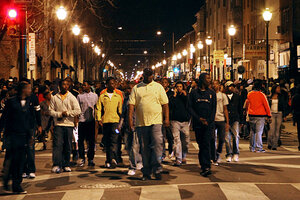 AP
The very idea of a teen flash mob is enough to send shivers through even the hippest of adults. Just think about it: Hundreds of adolescents, urged on by the forces of social media, gathering late at night, often with no real plan. Not exactly an environment for good judgement.
Indeed, take a glance at the news from the Mall of Louisiana. Last night, an apparent teen flash mob turned into a brawl in the food court – as well as a stampede and a police intervention that led to the mall's early closing.
And that's only the latest example of scary teen flash mob incidents. Flash "robs" in Chicago, Philadelphia and elsewhere have gotten quite a lot of press over the past year, as have related brawls and random attacks.
But it's not all bad. Teens have also gathered to show off their spontaneous dance moves in support of everything and everybody from anti-bullying efforts, Canadian aboriginals and sexual assault victims. And because we like teenagers over here at Modern Parenthood (they're exasperating sometimes, sure, but really, who else thinks of a square-dancing flash mob for downtown Seattle? Or turning Michael Jackson's "Thriller" into political activism?) we thought we'd give you a sampling of our favorite, awesome, teen flash mobs over the past year.
---