Kim, Kanye buy mansion for $11 million: Will $3 million baby photos be down payment?
(Read article summary)
Kim, Kanye buy mansion for $11 million. The baby photos could bring a $3 million down payment. But, sniffs one mom, baby photos are priceless.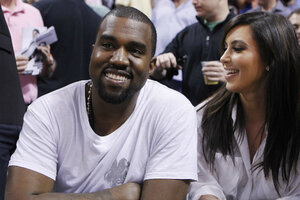 Associated Press
Ah, the same old family story, Kimye style.
There's love, a baby on the way, and before you can say "refi," there's that dream house that needs just a little bit of renovation.
Yes, Kim Kardashian and Kanye West have reportedly bought a $11 million mansion in Bel Air, and are already trying to make those needed fixes for their growing family – a gym, a movie theater, a basketball court and a salon.
All this less than a month after West announced publicly that Kardashian was pregnant.
And only a few days after celebrity "insiders" started speculating about how much the paparazzi would pay for the oh-so-public couple's first baby photos. A number of reports – of predictably dubious nature – said that the bidding was already at $3 million, but that the couple was holding out for more. After all, we figure, they need to make that new salon nice.
We could write all of this "news" off as more celebrity vapidity, sure. But this blast of public excess got us wondering... how much are those baby photos worth for mere mortals?
The answer is easier if you are on the Hollywood A list, of course.
According to Forbes.com, for instance, Angelina Jolie and Brad Pitt sold photos of twins Vivienne Marcheline and Knox Leon for a combined $15 million in 2008.
---