Snooki tips for Kimye and more: our parenting news roundup
(Read article summary)
Snooki, reality star and new mom, has some words of advice for pregnant Kim Kardashian. Screen time doesn't necessarily impede physical activity. And Octomom.... oh, Octomom. Our first parenting news roundup of 2013.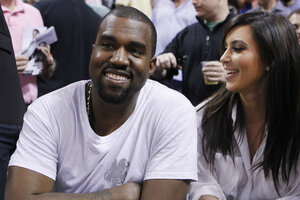 Associated Press
Snooki is giving Kim Kardashian pregnancy advice. Octomom is back on welfare. And a new study suggests that screen time doesn't necessarily impact kids' physical activity.
Welcome to 2013.
If you missed any of these all important items this past week, never fear. That's why we have our weekly parenting news roundup; our collection of tidbits that don't quite make it onto our daily news page.
First up:
From slug to sprinter? Not so fast.
American kids spend way more time in front of screens – that's televisions, computers, the whole collection – than is good for them, experts have found again and again. A lot of children also don't get doctors' recommended amount of physical activity. But in a new survey published this week in "JAMA Pediatrics," researchers say that the two are not necessarily connected.
In other words, just turning off the television will not transform Junior from a couch potato into an athlete.
According to parents' answers to the survey, 70 percent of children aged 6 to 11 met the recommendations for physical activity (at least one hour a day), while 54 percent met the screen-time recommendations (less than two hours). Thirty-eight percent met both sets of guidelines. (And researchers say that parents likely overestimate their children's exercise.)
While obesity was tied to both not getting enough exercise and spending too much time in front of screens, there were few other links, researchers said.
Octomom. Sigh.
---