China pollution: Airpocalypse and the expat parenting dilemma
(Read article summary)
China pollution – aka airpocalypse – creates an expat parenting a dilemma: Do the pluses (a language and cultural education) outweigh the minuses (not being able to breathe) for kids?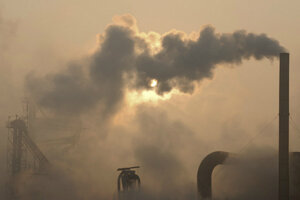 Associated Press
Much of the world has heard about China's recent run of horrendous air pollution levels. Some reports listed the PM 2.5 – the measure of the finest particulates in the air – at a whopping 993 milligrams per cubic meter. After ABC anchor Diane Sawyer called it "air-pocalypse" on the evening news, the worried emails from home started popping up in my inbox.
For some perspective, any number over 300 is considered "hazardous" by the US Embassy's monitoring system, which has been measuring air quality for about four years.
Parents in Beijing – not even the most polluted city in China – have been agonizing over the fact that they're exposing their children to unhealthy particulates.
I have older children – although they both happen, somewhat miraculously, to live in China. My son Daniel called us Saturday from Guangzhou (which is in the south: Guangzhou is to Beijing as Miami is to New York) to ask how we were faring. What could we say? Most expats spent the day indoors. New York Times correspondent Edward Wong tweeted: "Holing up with books and movies and an air filter."
But I couldn't do that – I had invited eight for dinner that night, and decided to venture a 30-minute walk to Sanyuanli, the local wet market, where I could buy high-quality salmon, vegetables and even a baozi (steamed bun) snack to fuel my shopping. I also walked back, dragging behind me my little-old-lady shopping cart packed with salmon for the main course, celery and onions and zucchini for minestrone, and Brussels sprouts, potatoes, and cauliflower for side dishes.
---