Michael J. Fox to Taylor Swift: Please don't kiss and tell, the parenting roundup
(Read article summary)
Michael J. Fox told Taylor Swift he didn't want his son, Sam Fox, to be inspiration for her break up songs. Michael J. Fox told Taylor Swift to "back off." Shakira is holding a virtual baby shower.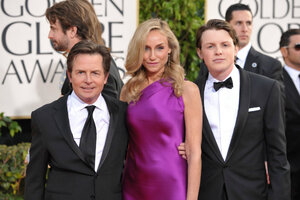 Associated Press
It's Friday, which means time for our (celebrity-heavy) parenting news roundup. Without further ado, we bring you....
Dad's dating advice
Sam Fox, you heard it from your dad first. Taylor Swift is no good for you.
That's right. Continuing a Tina Fey joke from the Golden Globes last weekend, Michael J. Fox at a book party Wednesday told the singer to "back off" from his 23-year-old son. (Not that there's any rumor of interest, anyhow.)
"I don't keep up with it all," Michael J. Fox told reporters at Vulture.com, who actually asked him about this. "But Taylor Swift writes songs about everybody she goes out with, right?"
Indeed, the 23-year-old Swift is getting a bit of a reputation as a serial dater. Which in and of itself is no great surprise for a young celeb. The difference is that Swift's exes tend to find themselves the focus of popular tween ballads. (Talk about never ever getting back together.)
The Vulture interviewer asked Fox what he would think if Sam brought home Taylor for a family dinner. His reply: He wouldn't know who she was, but he'd figure it out when he heard the hit breakup song on the radio. "'Sam, You Piece of ... ' Oh, that was the girl you brought home!"
And does this father-son dating advice apply to all singer-songwriters – or just Grammy winners who go out with Harry Styles?
New York v. Los Angeles
A new nugget to add to that "which is better, Los Angeles or New York" debate that you have with your West Coast friends: In a study released by the U.S. Centers for Disease Control this week, researchers found that New York appears to be more effective than its Pacific Coast counterpart at reducing childhood obesity for low-income preschoolers.
The researchers compared obesity rates among poor children from 2003 to 2011. In New York the rates dipped from about 19 percent to 16 percent, while in LA they rose from 17 percent to 21 percent, before dropping to 20 percent.
---