China adoption diary: Newtown shooting and a holiday concert, interrupted
(Read article summary)
The moment Gretchen Belsie heard about the Newtown shooting was during adopted daughter Madeleine's first holiday concert performance.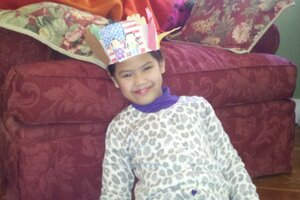 Gretchen Belsie
On a bright and cold Friday afternoon in December, my husband and I attended the annual Holiday Concert held at our daughters' elementary school. The event – a combination of old-school enthusiasm for the music of the season with a super-sized PTO bake sale off to the side – was something we had both looked forward to this year, especially since it would be Madeleine's first encounter with this aspect of the American Christmas experience. We had heard endless details from fifth grader Grace and had watched her practice her "Lotsa Latkes" Jewish dance number in the living room for at least a month. But since Madeleine still doesn't speak much English, we weren't sure what her grade would be offering up on the program.
Solid attendance at the concert is a given. Parents get off work for two hours, grandparents throng the gymnasium, younger siblings are dragged along to chortle and weep throughout the presentations. Given a past experience when we had arrived just before the doors "officially opened" and thus had to stand leaning up against the junior rock climbing wall for two hours, I urged Laurent to drop me off ahead of time so I could dash in and save some seats while he went to park the car down the street. I was fortunate to get two seats together in the last row, and this time, we had only a pair of sobbing toddlers in our immediate area.
The cultural and ethnic diversity of the audience stood out in marked contrast to the relative homogeneity of the population in the Midwest region where we used to live. Spanish conversations swirled around us. I noticed several Muslim women in the crowd with brightly colored head scarves. A Mongolian mother stood by with an infant cradled in her arms. A young Japanese mother searched for her daughter when the kindergarteners marched in in a wobbly line.
---