Immigration reform: Teaching kids about the "pathway to citizenship"
(Read article summary)
As immigration reform and the pathway to citizenship are moving forward, an educator tells his idea for teaching kids about what's really American.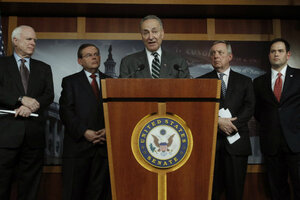 Reuters
Why is "foreign" such a problematic word? In the recent presidential campaign, it was a negative label used by Mitt Romney to tar and feather Barack Obama. President Obama has foreign ideas, he said. It was already a worn out trope that Mr. Obama's not American. "He's different!" True – just like the rest of us. Which means, we shouldn't be so schizophrenic about what's foreign and what's American. Obama seems to be getting it right now, stressing the talents and skills that immigrants offer the American talent pool – talents we should enfranchise, not deport.
It's a commonplace to say, "We are a nation of immigrants." We can all tell a family story whose arc originates somewhere else on the planet. Many of us are several generations away from the actual immigrant experience; some of us are new arrivals. We forget the strength of our history and how to embrace it. After all, what is an American?
It's an engaging complication that even school children can investigate with greater vigor and clarity than the pundits and fulminators and bloviators of the news cycle. At one of my past schools we called this Project Acceptance, in which 5th- to 8th-graders focused on the experience of immigrants, or new Americans. For several weeks, our students even used an online forum to share their opinions about a common set of readings. I recommend author Margy Burns Knight who wrote, "Who Belongs Here?" the story of a young Cambodian boy refugee living in the US. International students from GSA joined us. I recommend Katherine Applegate's book, "Home of the Brave," the story of a Sudanese refugee boy in Minnesota. I recommend Allen Say's "Grandfather's Journey," to name but a few.
---