New Monopoly token: Cat replaces housewife's iron, good riddance!
(Read article summary)
New Monopoly token: The iron, forced upon young girl Monopoly players everywhere, has been ousted by the Internet generation. Here's to that new Monopoly token, a cat, clawing away at old gender roles.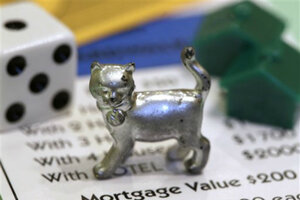 Associated Press
Some days I feel as if the iron has monopolized my life, from pressing stubborn wrinkles to the days of childhood when boys across the Monopoly game board insisted I have it as my token, "Because you're a girl." No top hat, race car, or battleship for girls, they would insist. Bah! So when Hasbro Toys announced today that a fan-driven Internet poll ousted the iron in favor of a cat I smiled in triumph for little girls everywhere.
According to Elise Leonard of Litzky Public Relations for Hasbro, this was part of Hasbro's Monopoly "Save Your Token" campaign on Facebook from Jan. 9 through Feb. 5, 2013. Fans can visit the game's Facebook page to bid farewell to the iron and view additional Monopoly "Save Your Token" campaign content. The cat was able to claw its way up the voting ladder past the toy robot, guitar, helicopter, and diamond ring options offered in the campaign.
I chuckled to see the Hasbro press release where the only one mourning the loss of the iron was a man, Eric Nyman, senior vice president and global brand leader for Hasbro Gaming: "While we're a bit sad to see the iron go, the cat token is a fantastic choice by the fans, and we have no doubt it will become just as iconic as the original tokens."
Say all you want about how modern men do iron, that token was always tied to a mother's apron strings weighing her down.
---