Hello Kitty 'terrorist,' et. al: Is zero tolerance suspensions for kids right?
(Read article summary)
Zero tolerance suspensions of kids is an overreaction in cases like the kindergarten Hello Kitty 'terrorist' who wanted to "shoot" people with bubbles or 6-year-olds pretending to shoot with their fingers. It's adults crying wolf.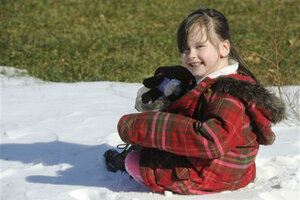 Associated Press
As a parent I have zero tolerance for realistic threats to my child's safety in school. However, I am not convinced that the criminalization of elementary school children and a new form of student shaming by branding kids over their imaginations is where we truly need to be headed right now. I am not getting rid of the Woody doll from Toy Story because it says, "Reach for the sky" when you pull the string either.
Over the past 19 years I have run a totally toy-gun-free, parentally-guided home where I limited violent video games. However, despite the hair-trigger on the panic button, I am not taking my son Quin, 9, who has Aspergers Syndrome (sadly an alleged part of the profile of the Sandy Hook Elementary School killer) off his favorite video game site that his teachers recommend for high-achievers, called Math Blasters.
Yup, he's making the world safe for math by "blasting" aliens with his killer calculations. However, I am prepping for the day when he points his invisible math laser at another kid and tells them, "I'm going to subtract you!" and ends up suspended for "terroristic threats."
My concern stems from a string of recent news reports in which children much younger than my son have been suspended and socially branded via schools' zero tolerance gun and weapon policies that are on such a hair-trigger that we are perhaps beginning to do more harm than good by crying wolf and painting kids with the "bad kid" brush when all they really need is a little guidance.
According to The Associated Press, a Pennsylvania kindergartener waiting for the bus told friends she was going to shoot them with a Hello Kitty toy that makes soap bubbles and was suspended for making "terroristic threats."
---