Rescue dog: Albie feathers the empty nest
(Read article summary)
Rescue dog Albie's owner has officially become "that guy" – the one who flaunts photos of his rescue dog ... on Facebook, as his iPhone wallpaper. As the empty nest comes into view, Albie is slowly replacing the kids in a dad's homelife.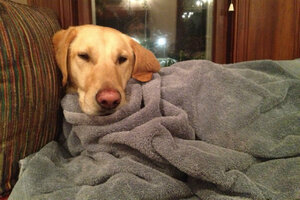 Peter Zheutlin
OK, I've officially become that guy. The guy who swore he'd never post pictures of his dog on Facebook but now can't resist once in a while; who uses a picture of his dog as the wallpaper on his iPhone and shows anyone, at the drop of a hat, some of the many other pictures of his dog he keeps stored in that phone.
I've become that insufferable bore who thinks you'll be just as smitten as I am from a mere glance of my beloved Albie, his pixels arranged in high definition on a tiny screen.
Even though I know everyone, myself included, is tired of the countless Hallmark-cute images of dogs and cats and ducks and ferrets and cockatoos that populate the Internet, I can't resist offering a peek to anyone who will stand still long enough to mutter politely that he's adorable.
What's happened to me?
Somehow, I think this all has something to do with the impending departure of my youngest child to college next fall. I mean the timing is awfully suspicious, don't you think?
Exactly one year before the nest is scheduled to empty, we fill it back up with Albie and can now count on (knock on wood) another 10 years or more of having someone around who really needs us – who really depends on us – and all for a fraction of the cost of a human child. What a deal!
Filling an empty nest with a dog may seem to devalue what children bring to our lives, but only if you think about the dog as a replacement for a child, or are hoping a dog will stave off the wistfulness, even the loneliness, that accompanies the realization that your child rearing years are over.
---