911 call over bedtime; fishermen find girls: A great first responders week
(Read article summary)
A 911 call over bedtime by an aggrieved 10-year-old and at a hidden crash site fishermen find two little girls: It was a great week for first responders and a good time for parents to review the 911 rules with kids.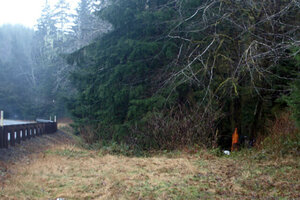 Washington State Patrol/AP
America's first responders had a lot to handle this week, from the heroic to the half-baked. On one hand, two commercial fishermen, one a former first responder, saved two young girls by acting on a hunch, conversely, a 10-year-old boy in Massachusetts called 911 on his mom because he didn't want to go to bed. It reminds us as parents that we need to teach our kids what to do in an emergency and when they are crying wolf.
In the first case it was an adult calling 911 to help rescue two little girls, ages four and two: Scott Beutler – the former first responder, now a commercial fisherman – saw a fresh gash in a tree beside an Oregon highway and his training and instincts told him something was amiss. Mr. Beutler was driving with his co-worker Kraai McClure (who made the 911 call) when they saw a gash in a tree, according to the Associated Press.
What they found was a crash site where a mom died as a result, leaving her two little girls, injured, freezing and out of view of the road. Unlike adults who would have tried to get to the road or be in plain sight to be found, they were huddled under a blanket far from view. The girls finally got help after the two commercial fishermen decided the fresh gash in the tree was probably an indicator of a recent event and decided to turn around to check it out, according to AP.
Meanwhile, in Brockton, Mass. police say a boy, age 10, called 911 to report that his mother was telling him to go to bed at just after 8 p.m. and he didn't want to go, according to Brockton Det. Lt. Paul Bonanca.
"We get a lot of hangup calls from kids ... but this one, apparently, didn't want to go to bed, and to him that was an emergency," Lt. Bonanca said in a phone interview this morning.
---