Student suspended after disarming gunman: A week of heroes and bullies
(Read article summary)
A student suspended after disarming gunman gets a mom thinking about the cast of characters – heroes, bullies, and victims – in the justice vs. safety ethic schools must deal with.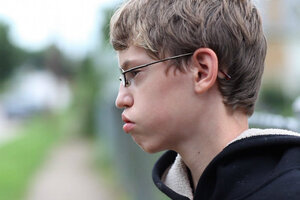 AP / Weinstein Company
If surveys are correct, there may be 160,000 American kids avoiding school right now in an effort to dodge bullying. It's a figure I came across as I contemplated the national news reports of a Pennsylvania boy's death from alleged bullying and a Florida high school student suspended for allegedly disarming a student gunman. The bottom line is that we may have to cope with some heroes and innocents becoming ensnared in the finer net we must now cast over our schools in order to keep kids safe. As parents we're caught between safety and justice.
As a parent I seem to be spending a lot of time visiting www.BullyingStatistics.org and learning things like the stat on 160,000 kids avoiding bullies by avoiding their education. The more I read, the more I am in favor of taking danger out of the mix as quickly as possible by advocating the security blanket-approach some school districts take by suspending alleged violent offenders while details are sorted through. It's not all that different from someone in the workplace being on "administrative leave" pending investigation of an alleged act of misconduct.
When it comes to school safety vs. justice, the reality is our kids are guilty until proven innocent in some districts, particularly where weapons are involved. While I hate that, I am having my view changed by the death of innocents in our public schools.
However, kids are dying and weapons are in the hands of students, so it's time to err on the side of caution and go the extra miles to get convictions of brutal bullies.
Parents know how hard it is to get a straight story from a group of kids in the throes of a major meltdown. Given that realization, it's not too hard to see how school and law enforcement officials have taken the security blanket-approach to being our kids' parents when they are on the spot where we're not. If a student is wrongfully taken out of school, then an apology as publicly made as the suspension, and a clean record, are in order from the school to the child.
---