The 100th day: Learning's tipping point deep in the school year
(Read article summary)
The 100th day of school is a tipping point where accretion of grade-level knowledge begins to show; it's a benchmark in leaps of consciousness that teachers celebrate.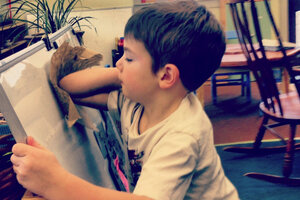 Courtesy of Jamie Siever
Most elementary schools celebrated the 100th day of school around this time of year. "Bring in 100 of something," the teachers will say. And the day will be devoted to enumerating all manner of things: pennies, Cheerios, acorns, etc. In my former school, it was the day when Zero the Hero saved the day by restoring the specially decorated 100 cake. You can't have 100 without Zero.
The day is also a tipping point. It sneaks up on you. Suddenly, the psychic midpoint of the school year has arrived. It has been circling and watching and coming closer and closer and then … it pounces. Though it may feel like the midpoint, that doesn't necessarily mean "half over." Like the proverbial glass that is half full or half empty, it depends on whether you're filling it up or pouring it out!
At my school we're still filling up. This apparent defiance of the laws of physics is more than a trick of the mind. Even though the second half of a school year can feel like the Westward slope on which we are hurtling toward June, time passes in unique ways for each time traveler. The external benchmarks describe one kind of time passage, and the second half of a school year is more like two thirds of the year in terms of the learning we can pour in. Better to focus on the upcoming tipping points, to use a popular phrase, which are internal, less predictable, and indicators of more profound growth. The good thing about going downhill isn't just the speed–it's the momentum.
---